EXPO 2020 Dubai
The EXPO 2020 in Dubai will take place from 1st of October 2021 until the 31st of March 2022. It is the first World Exposition to take place in the MENA & SA region (in the Middle East, Africa and South Asia) and it is also the first hosted by an Arab country.
Virtual tour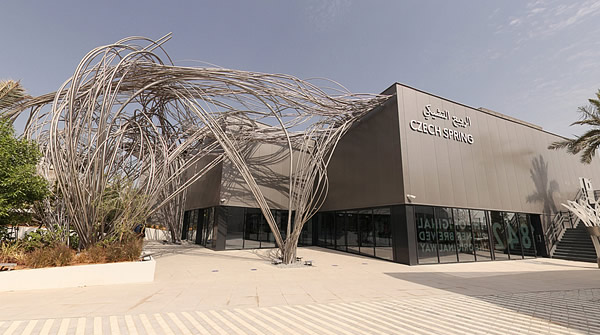 30. 3. 2022
The organizers of the General World Exposition awarded the Czech Republic the prize for "Best Innovation" for a technology that autonomously produces water from dry desert air using only solar energy.
23. 3. 2022
March 28, 2022, the Smart Technology conference in healthcare, social and spa care will take place in the Czech pavilion. The program will present examples of good practice in the use of telemedicine in the prevention and treatment of cancer, cardiology and other groups of chronically ill patients. The use of robotic care in rehabilitation and spa treatment will also be included.
Planned theme exhibits in the rotational exhibition:
01/10–22/10 – CZECH SPA
23/10–14/11 – ROBOT'S 100th BIRTHDAY
15/11–30/11 – CZECH GLASS CLASS
01/12–15/12 – WATER INSPIRATION
16/12–30/12 – CZECH TREASURES
31/12–14/01 – NANOWORLD
15/01–29/01 – SMART CITIES
30/01–13/02 – CZ-EX MACHINA
14/02–28/02 – ENERGY THE SMART WAY
01/03–15/03 – MYSTERY OF KNOWLEDGE
16/03–31/03 – MICRO & MACRO