EXPO 2020
starts in
days
:
hours
:
minutes
:
seconds
The EXPO 2020 in Dubai will take place from 20th of October 2020 until the 10th of April 2021. It is the first World Exposition to take place in the MENA & SA region (in the Middle East, Africa and South Asia) and it is also the first hosted by an Arab country.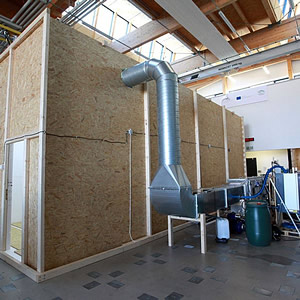 7. 8. 2018
In a lab in Buštěhrad, where desert climatic conditions are being simulated, the scientists from the University Centre for Energy Efficient Buildings (UCEEB) CTU brought to life the machine that makes water out of the air. The mobile version of the S.A.W.E.R. system (solar-air-water-earth -resources) is the size of a shipping container and is capable of producing up to one hundred litres of water per day – the capacity of this technology integrated into the national pavilion at the EXPO 2020 in Dubai should be fivefold.
6. 8. 2018
On the 6th of August, The Office of the Commissioner General for Czech Participation at the General World Exposition EXPO 2020 in Dubai announced a tender for the operator of the restaurant in the Czech pavilion. And just as it was with the tender for the developer of the pavilion, the tender is open to Czech companies, European companies as well as companies from the United Arab Emirates and other countries. The applicants can submit their offers until the 6th of September 2018 and the evaluation committee will meet on the 18th September 2018.