Exhibition Grounds and Land
The EXPO 2020 Dubai Exhibition grounds are located in the southwestern part of Dubai, close to the Al Maktoum Airport and the Jebel Ali Port, about a third of the way between the centres of Dubai and Abu Dhabi. It spreads in the shape of a flower on an area of about 4.5 km².
The central square is surrounded by the entrance zone with the main gate and 3 main "petals" – each with one subtopic "Opportunity, Mobility, Sustainability". The pavilions of individual participants will be placed around the perimeter of the petals. The commercial zone, the mosque, both the thematic and corporate pavilions and additional buildings will be located around the central square and inside the "leaves", where parks and playgrounds for children will also be located.
A total of 4 gates for the visitors will be placed at the tip of each one of the leaves.
A total attendance of more than 25 million visitors for the duration of the exhibition is expected. That is an average of 170,000 of visitors per day and up to 240,000 visitors during the weekend and other high expectancy days.
The EXPO site visualization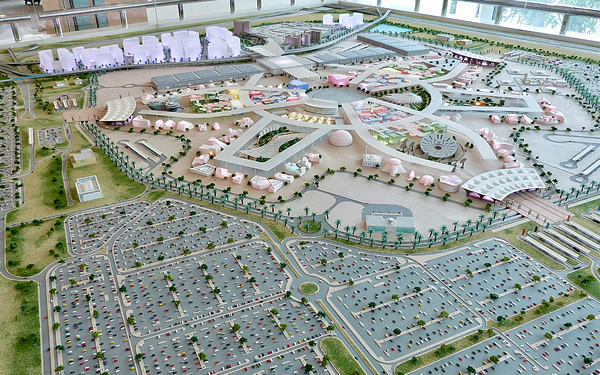 Plot details